Task Management Software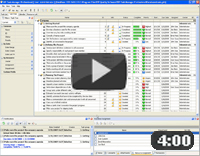 Authorization

TESTIMONIALS
"...This is an excellent program. I'm so glad that I stumbled on to this when researching for task management programs. Very low learning curv, quite flexible, and the price is right. Tried at least 20 other programs, either too complicated, too expensive, or poor documentation..."
Chad Lindsey -
Honolulu, HI
MORE FEEDBACKS

Document review checklist

| | |
| --- | --- |
| | This document review checklist is designed to help specialists who have a duty to review and check documents to ensure their technical precision, correctness of content, readability etc. You can learn this checklist to study steps of review cycle, details of workflow and methods used to inspect documents for correctness in terms of their design, credibility and content, so that they match certain quality standards. |

---

| | |
| --- | --- |
| Order 750 checklists in MS Word and PDF printable format at $49.99 USD only. | BUY NOW! |

Document review workflow:

Crete a list of requirements identifying correctness of document.
Create a list of reviewers, define their roles and concernment.
Set objectives and metrics.
Define the ways of communication between participants of project.
Formulate procedures.
Prepare and maintain record process and form (for example matrix where suggestions and corrections can be inputted and tracked).
Establish system as a stable set of methods that can be used for continuous inspection, systematization and improvement of documents.
Create a template for report to record and summarize feedbacks, suggestions and manage correcting.
Schedule practice.

Document review cycle:

Creating the document, making its copy and saving original.
Sending the document for review to those who are authorized (author delivers the document to competent reviewers).
Collecting and consolidating comments and suggestions (reviewers add comments and return the document to the author).
Getting comments and suggestions approved.
Accepting or declining comments.
Communicating accepted to the reviewer(s).
Updating the document (the author updates the original document based on suggestions and comments from reviewers).
Sending for review again if required.
Updating the document additionally if required.
Publishing the document officially.

Document review process for checking technical correctness of document's body:

Check if document's structure matches the format and content specified in appropriate plan.
Check if layout of paragraphs and sections is appropriate.
Inspect the document for readability and clarity.
Visually inspect each page to check correctness of page numbers.
Visually inspect each page to check correctness of fonts and font sizes.
Check each page for correct spacing.
Check accuracy and correctness of headers and footers on each page.
Check accuracy and correctness of tables, pictures and diagrams.
Check each page for correctness of left and right, top and bottom margins.
Check each page for correct page breaks, so no headers remain at the end of pages without text following after them.
Inspect if footnotes or endnotes are properly numbered in sequence.
Check if all the document's sections are properly represented in Table of Contents, including appendices.
Inspect Table of Contents for correct format of entries and correct sequence of numbers.

Document review techniques for checking correctness of document's content:

Inspect for correct language usage – check the style and grammar for proper quality.
Check and evaluate the actual sense of document's content – inspect correctness of technical language, terms, style, material consistency, completeness etc.
Make sure that language is appropriate for the target audience.
Check if the document observes consistent tense, proper simplicity in language structures, so that there are no too long, complex or confusing sentences.
Check all sentences for correct grammatical construction, semantics and phraseology.
Check the spelling and punctuation.
Ensure smooth semantic transitions between the document's sections and paragraphs.
Make sure that there are no excessive information and unnecessary words in the text.
Check if all the acronyms and abbreviations used in the text are properly introduced where they are mentioned for the first time.
Check if internal cross-references within the text are correct, and references to external sources and documents are valid.
Check if pictures, graphs and tables are clear, correct and properly correlated with the text.

Document review methods:

Basic text inspection with a help of electronic tools like spell checkers.
Preliminary Review by author to correct obvious faults and refine the document.
Expert Review to verify business and technical information recorded in the document.
Peer Review to get an advice from colleagues.
Supervisor's Review by a person taking higher administrative position.
Acceptor's Review to get suggestions and comments for correction right from the ultimate document's acceptor.
Presentation Review to get the document represented to a group of people with appropriate knowledge and skills who can contribute different points of view.




---

| | |
| --- | --- |
| Order 750 checklists in MS Word and PDF printable format at $49.99 USD only. | BUY NOW! |

CentriQS Tasks Management Solution

Looking for multi-user task management software? Try CentriQS complete task management solution for planning, tracking and reporting tasks, projects, and schedules. Increase productivity of your small business or office by better organizing your employees' tasks and time.

FREE Download CentriQS
CentriQS -15% OFF
All-in-one business management software
for small and midsize enterprises

---

VIP Task Manager
Multi-user project management software
to plan, schedule and track project tasks.

---

VIP Checklists
More than 750 ready-to-use to-do lists
to plan your personal and business life

---

VIP Team To Do List
Professional task management software
to make and send team todo lists by email

---

VIP Organizer
Personal time management software
to organize time at home and at work

---

VIP Simple To Do List
Simple and effective to-do list software
to plan daily chores, trips, wedding, etc.