Task Management Software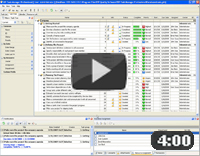 Authorization

TESTIMONIALS
"...This is an excellent program. I'm so glad that I stumbled on to this when researching for task management programs. Very low learning curv, quite flexible, and the price is right. Tried at least 20 other programs, either too complicated, too expensive, or poor documentation..."
Chad Lindsey -
Honolulu, HI
MORE FEEDBACKS

Job evaluation checklist

| | |
| --- | --- |
| | This job evaluation checklist will be helpful to middle and senior managers who are responsible for hiring, retention and development of organization's staff and who want to apply actual approaches for modern business environment. This checklist gives you all-round review to explain metrics, methods and objectives along with actions and steps for some of the most popular methods. |

---

| | |
| --- | --- |
| Order 750 checklists in MS Word and PDF printable format at $49.99 USD only. | BUY NOW! |

Rules and facts:

Objectives are determining the relative worth of every job, providing a basis for wage negotiations, reduction of grievances of workers due to improper wages, eliminating unfair wage inequality within the organization for jobs of similar skill, effort and responsibility.
Purpose is ranking jobs through their evaluation to determine the equitable compensation to offer. It is about evaluating only jobs, not people who perform these jobs.
Advantages include the fact that such a systematized process determining the pay grade for different jobs allows making fair decisions on compensation and as a result increases employee compliance and loyalty.
Techniques include different methods such as Job Ranking, Factor Comparison, Point method and Classification Jobs. Each method has own advantages and disadvantages.
Commonly, disadvantages include the fact that almost all these techniques are based on subjective judgements and are not really scientific, but they can give a background for some objective judgements.
To reach a better understanding you can adjust existing methods to your business specificity or just combine different types, for example you can use Classification Jobs method first, and then Factor Comparison to clarify situation in each particular class.
To apply any of these methods you should create clear jobs descriptions for all roles and positions in your organization.
To reach more effective system of job evaluation you can bring together job evaluators from different departments into one workshop to let them contribute their expertise and judgment, so you can obtain thorough understanding of all the jobs.
Job evaluation can assist on solving organisational problems as it may disclose duplication of tasks and some gaps between jobs and functions.
To ensure correctness of obtained results you need to test them through getting acceptance from all members of the workshop.

Principles and steps for different methods:

Factor Comparison: according to this method each job is ranked according to a series of factors.

Identify a small set of compensable factors (4 or 5) determining the value of jobs. They can be the following: Skills, Responsibilities, Effort, Working conditions.
Build a table (matrix) adding these factors as columns.
Identify the jobs and input them as lines of the table.
Express the value of each job in monetary terms in the context of each factor.
This method is quite flexible as it can be applied to wide range of jobs as well as to newly created jobs.
The similar method is called Point method – you need to set out requirements for the jobs (ex: education, experience, physical and mental efforts), and appoint appropriate number of points to each requirement to characterize job's difficulty (let's say the higher the educational requirements for the job the higher the points scored).

Job Ranking: it is probably the simplest method. It requires listing the jobs from highest to lowest according to their overall value or merit to the organization, or just perceived seniority.

Identify job titles and compensable factors.
List the jobs so jobs making the highest value are at the top of the list and jobs at the bottom produce the lowest value.
Actually you can do ranking through rating jobs by requirements such as skill, mental and physical efforts, etc.
Build several lists to rate all jobs by each of the requirements; the final list should represent average weighted value made for each job.
This method works only for small teams with small number of positions, but as the number of jobs increases, this method becomes inefficient.

Classification Jobs: This method stands for grouping jobs into several classes (or grades). These grades or classes are arranged into a levelled structure with descriptions for each group.

Identify several classes which represent certain criteria, for example job requirements and worth to organization. These classes of jobs may include statuses such as Executives, Skilled Workers, Semiskilled Workers etc.
Identify job titles and statuses (Assign jobs to appropriate categories).
The amount of compensation for each job depends on its class.
This method can be effectively used for a variety of jobs, because it is easy to associate a job with certain class.

Some examples of metrics (requirements, compensable factors):

Attendance & punctuality – necessity of permanent on duty attendance, necessity to be good at following scheduled commitments.
Dependability – effectiveness in making decisions and undertaking responsibilities without continuous supervision, consistentcy and confidence in performance or behavior.
Appearance – requirement to have good outward appearance while being on duty.
Productivity – necessity to deliver stably high work results.
Work quality – necessity to focus rather on quality of performed work, than on quantity.
Work quantity – necessity to focus on quantity, delivering products as much as possible.
Work consistency – necessity to keep proper level of accuracy while performing a job, following documented instructions and procedures.
Knowledge of job – necessity to have work experience, knowledge that cannot be "learnt from books", but can be obtained from the practice.
Work skills – variety and rarity of skills which are necessary to the job.
Managerial skills – necessity to have skills for leading and coordinating people, making business decisions, etc.
Cooperation – necessity to find common language with co-workers, be able to collaborate without problems.
Enthusiasm – necessity to have positive and energetic work attitude, to be ambitious and ready to invest efforts without getting results immediately.




---

| | |
| --- | --- |
| Order 750 checklists in MS Word and PDF printable format at $49.99 USD only. | BUY NOW! |

CentriQS Tasks Management Solution

Looking for multi-user task management software? Try CentriQS complete task management solution for planning, tracking and reporting tasks, projects, and schedules. Increase productivity of your small business or office by better organizing your employees' tasks and time.

FREE Download CentriQS
CentriQS -15% OFF
All-in-one business management software
for small and midsize enterprises

---

VIP Task Manager
Multi-user project management software
to plan, schedule and track project tasks.

---

VIP Checklists
More than 750 ready-to-use to-do lists
to plan your personal and business life

---

VIP Team To Do List
Professional task management software
to make and send team todo lists by email

---

VIP Organizer
Personal time management software
to organize time at home and at work

---

VIP Simple To Do List
Simple and effective to-do list software
to plan daily chores, trips, wedding, etc.