Task Management Software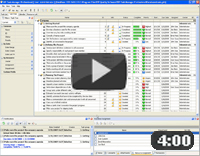 Authorization

TESTIMONIALS
"...This is an excellent program. I'm so glad that I stumbled on to this when researching for task management programs. Very low learning curv, quite flexible, and the price is right. Tried at least 20 other programs, either too complicated, too expensive, or poor documentation..."
Chad Lindsey -
Honolulu, HI
MORE FEEDBACKS

Meeting agenda checklist

When you plan your next meeting agenda, you can use this checklist to plan action lists, schedule events and tasks.

1. Major elements of your meeting agenda.

Establish the purpose of your next meeting. The purpose is the basis for your meeting. You should use the most relevant words to carefully state and describe it in your agenda, so that any participant can read the purpose and clearly understand it.
Set start time and finish time of the meeting. The best time for your next meeting is the business day. It will be easier for you, your employees and senior management to prepare all necessary materials. If the meeting is going to last several hours or even more, consider to include one or two coffee breaks in your agenda layout.
Define location of the meeting. If you plan to hold the next meeting in your company's office, location won't be a problem for you. If you decide to arrange the next meeting outside your company's offices, then you should notify all meeting participants of the meeting location and how to get there. You can add the traffic route to your meeting agenda and then share it with all participants.
Define subjects to be discussed and addressed during the meeting. Usually topics and subjects of meetings are collected and accumulated within some period of time (weeks, months etc.) and they cover a number of problem situations arisen in a company. Your meeting should help settle any problem situations and issues. Your template should have a list of subjects to be discussed with reference to problem situations.
Set an expected time for each subject to be discussed. You should remember that your outline registers start time and finish time of your meeting, so each topic or subject should have a strictly defined timeframe for discussion. Otherwise your meeting will be delayed, and not all issues will be discussed.
List names of meeting participants. Conditionally, all meeting participants can be divided into two roles: Listeners and Speakers. In your template there should be outlined a list of all participants organized by names and roles. Also you need to select and appoint employees who will act as Note-taker, Timekeeper, and Facilitator.

2. Evaluating your meeting (a set of questions to evaluate success of your meeting).

Has everybody reviewed and kept on track your sample?
Has every expected member listed in your meeting agenda participated in the meeting?
Have you achieved the meeting purpose mentioned in your notes? Does everybody share your opinion?
Have you and other participants clarified the next steps to take in order to achieve strategic goals?
Can you outline what was wrong and what improvements are needed to make your next meeting more efficient?
Do you think the timeframe was well-spent? Should you use the same timeframe next time?

3. Requirements for software to manage meeting agenda.

Creating, scheduling, prioritizing, and categorizing items in your free meeting agenda format template.
Setting reminders for tasks.
Sharing tasks and entries of your ...

CentriQS Tasks Management Solution

Looking for multi-user task management software? Try CentriQS complete task management solution for planning, tracking and reporting tasks, projects, and schedules. Increase productivity of your small business or office by better organizing your employees' tasks and time.

FREE Download CentriQS
CentriQS -15% OFF
All-in-one business management software
for small and midsize enterprises

---

VIP Task Manager
Multi-user project management software
to plan, schedule and track project tasks.

---

VIP Checklists
More than 750 ready-to-use to-do lists
to plan your personal and business life

---

VIP Team To Do List
Professional task management software
to make and send team todo lists by email

---

VIP Organizer
Personal time management software
to organize time at home and at work

---

VIP Simple To Do List
Simple and effective to-do list software
to plan daily chores, trips, wedding, etc.