Task Management Software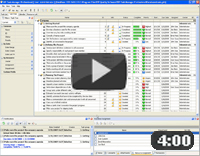 Authorization

TESTIMONIALS
"...This is an excellent program. I'm so glad that I stumbled on to this when researching for task management programs. Very low learning curv, quite flexible, and the price is right. Tried at least 20 other programs, either too complicated, too expensive, or poor documentation..."
Chad Lindsey -
Honolulu, HI
MORE FEEDBACKS

Task Mapping Checklist

| | |
| --- | --- |
| | In this checklist you will read what task mapping is, why use it in managing projects, and how to design task maps. It will be helpful for planners and project managers who need to make preliminary estimations of effort and resources required for their projects. |

---

| | |
| --- | --- |
| Order 750 checklists in MS Word and PDF printable format at $49.99 USD only. | BUY NOW! |

1. Overview.

Definition. Task mapping is a general method used by project planners to clarify and describe how two or more tasks are linked to each other and what logical connection can be established between them. The method allows planners to use graphical forms (charts, diagrams, pictures) to get a better understanding of relationships among the tasks. It can be applied to planning and managing jobs within projects.
Why is it useful? In planning or evaluation of a project it is often very difficult for planners to recognize current state of the project and have the right understanding of what amount of work is required to complete the project or its separate phase. Such a situation occurs because there are many different environmental and human factors having impact to the project. Task mapping encourages planners to stay on tasks which are the smallest pieces of work. The method offer conceptual algorithms to represent the project work as a sequence of prioritized and scheduled jobs displayed on a graph. It is very useful because it helps plan projects by tasks, make schedules, define priorities and estimate costs.
When is the method useful? As stated above, mapping strategies help identify links between tasks within projects. It is useful when formulating projects, planning various strategies, developing products, analyzing markets, making decisions, and measuring performance.
What are key steps of the method? It includes 4 steps including Prepare a project, List tasks, Structure tasks, and Design maps. Below we describe the steps.

2. Prepare a Project.

Goals. Your project starts with setting up its goals. Usually any project addresses some problem; for example, a marketing campaign addresses the problem of reaching target audience. What problem will your project address? Depending on the problem, goals for your project will be defined. You will need to design a goal statement which is a document describing goals and objectives of your project.
Participants. Now you need to define what people and organizations will participate in the project. They will be stakeholders. You will need to write the stakeholder register which is a formal document describing every person or organization having an interest in and an impact to the project.
Schedule. Now you can make a preliminary estimation of time required for reaching your project's goals. Note that at this step you can't design accurate time estimates so only approximate estimations can be made. You will need to create a drafted project schedule focused on an expected start time and finish time and showing an estimated duration of the whole project.

3. List Tasks.

Possible Solutions. When you have designed your goal statement, the stakeholder register and a drafted schedule now you can define and examine possible ways for reaching the goals within the estimated timeframes by involving the stakeholders. It's recommended to use brainstorming, expert advice, group discussions, brainwriting, and other techniques to generate possible solutions. Such solutions should address the project's goals, involve the stakeholders in the implementation and be delivered within the expected timeframes.
The Best Solution. By using descriptions of possible solutions you can define several ways of implementing the project. All the ways should be organized into a single list of solutions. By using estimation methods (such as the base and contingency technique, the Delphi technique) you need to define a solution that best fits into your project, its goals and schedule.
Amount of Work. Now you can estimate an amount of work required to produce your project and reach its goals. Considering the best solution you need to define what tasks can be set to start, execute and deliver the project. All the tasks should be organized into a simple list.

4. Structure Tasks.

Work Decomposition. Now you can use your list of tasks as the primary source of information on how your project work will be structured. You need to design a work decomposition template (for example, a work breakdown structure - WBS) showing how tasks are linked to each other (dependencies) and how they are related to every level of the decomposition.
Prioritization. Your work decomposition is not complete yet as it does not show in what sequence tasks should be done. Hence, you need to set priority per task. Prioritization will help your team focus on the most urgent and important tasks while low-priority tasks will be postponed. Use special prioritization techniques (like Grid Analysis, Paired Comparison Analysis, Action Priority Matrix, Nominal Group Technique) to set priorities for tasks.
Assigning. Now you can involve human resources in doing tasks. You need to assign people to tasks. Every task should have only one resource assigned. In case the task can't be completed by one person it should be divided into a range of sub-tasks assigned to several resources, but every sub-task still has one resource assigned.

5. Design Maps.

Multidimensional Scaling. Now it is time to design task maps. There are two methods: multidimensional ...




---

| | |
| --- | --- |
| Order 750 checklists in MS Word and PDF printable format at $49.99 USD only. | BUY NOW! |

CentriQS Tasks Management Solution

Looking for multi-user task management software? Try CentriQS complete task management solution for planning, tracking and reporting tasks, projects, and schedules. Increase productivity of your small business or office by better organizing your employees' tasks and time.

FREE Download CentriQS
CentriQS -15% OFF
All-in-one business management software
for small and midsize enterprises

---

VIP Task Manager
Multi-user project management software
to plan, schedule and track project tasks.

---

VIP Checklists
More than 750 ready-to-use to-do lists
to plan your personal and business life

---

VIP Team To Do List
Professional task management software
to make and send team todo lists by email

---

VIP Organizer
Personal time management software
to organize time at home and at work

---

VIP Simple To Do List
Simple and effective to-do list software
to plan daily chores, trips, wedding, etc.