Task Management Software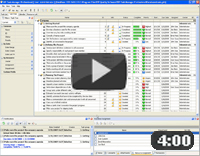 Authorization

TESTIMONIALS
"...This is an excellent program. I'm so glad that I stumbled on to this when researching for task management programs. Very low learning curv, quite flexible, and the price is right. Tried at least 20 other programs, either too complicated, too expensive, or poor documentation..."
Chad Lindsey -
Honolulu, HI
MORE FEEDBACKS

Water safety checklist

| | |
| --- | --- |
| | When it is hot summertime outside, all of us just love idea of swimming in the ocean, lakes, rivers, private or public pools, and elsewhere we can dive into refreshing body of water. Swimming is connected with certain risks, so this water safety checklist is created for everyone who wants to know how to maintain safety while dealing with water. In other words this checklist is a brief manual explaining you how to take care of yourself and your family. |

---

| | |
| --- | --- |
| Order 750 checklists in MS Word and PDF printable format at $49.99 USD only. | BUY NOW! |

Guidelines and tips:

According to statistics drowning is one of the most widespread fatal accidents in summer, so it is just necessary for people of all ages and health conditions to be very watchful and careful while bathing in water or staying near it. People with better skills should supervise and provide assistance to those who are less experienced.
NEVER dive into a river, lake or ocean if you cannot surely say that depth is sufficient and bottom is clean of hazardous objects. If you dive in a shallow place you can seriously injure yourself (for example broke your neck), or you can be seriously injured by hard or sharp objects hidden under water.
Learn how to swim if you can't yet (you may better learn in a swimming pool under coaching of a instructor), train yourself accurately, do not swim far while you are a beginner, avoid deep waters and don't swim alone – go swimming together with a more experienced buddy.
Swim within designated safe areas of rivers, lakes and oceans. Check if area is supervised by a lifeguard who can help in an emergency. Obey specific rules and attentively learn signs posted around.
It is strongly recommended to children and bad swimmers to exercise only in rather shallow waters where they can easily reach the bottom with their legs to stand firmly. Teach your children to swim no farther than they would without a flotation device (inflated toys and mattresses cannot substitute the swimming ability).
Even if your children can swim well you should make them wear lifejackets or vests when boating or playing near water. Never let your child swim when he is tired or overheated.
No matter how shallow the water, kids should be never left unsupervised around it. Before going to water you can prepare some worksheets explaining your kids how to behave, so they can consider and discuss them with you beforehand.
Younger kids shouldn't be allowed even to walk close to water without parental control, while elder ones when bathing should be supported with flotation devices, but they also shouldn't be left without parental supervision, especially if they cannot swim very good yet.
Don't even try to bath in rivers with strong current, even if you are a good swimmer.
When swimming in the sea, river or lake stay watchful all the time and beware of waterborne vehicles (aquatic scooters, motor boats etc) which are extremely dangerous for swimmers. Never swim in areas with intensive waterborne traffic.
Get learned and practiced the basic lifesaving techniques, including First Aid and artificial breathing. It would be useful to take a course before going into water, especially in areas without proper lifesaving supervision.
When you are going to build a pool you should follow certain important rules – you cannot build a swimming pool under a power line, there should be a float line segregating the deep and shallow ends of your pool, fencing that completely isolate the pool, etc.
Sign your kids up for swimming and lessons when they are old enough (at least 4 years old).
When you are near the water with your family or friends make sure that local station is properly supplied with equipment. Know where lifebuoys can be taken.
When boating or supervising a pool store-up and prepare all the necessary certified products (lifebuoys, lifejackets etc) and make sure that they are easily reachable and workable.
Teach your child never run, push, or jump on others around water as well as to swim away from platforms and diving boards as someone can accidentally jump on his head.
In order to teach kids about water safety you can play some games with them. The point of such games is gradually teach children not to afraid of water, to love and understand it, to know what dangers are connected to water, how to dive and relax while floating on water, etc.
Before going to swim you should check if selected water source is regularly analyzed by local sanitation and epidemiological center and recently approved as appropriate for bathing. Even if water was approved as organically and chemically safe, you should definitely avoid swallowing it.
Avoid swimming in the sea, lakes or rivers during a few days after strong rains as water can be contaminated with dirt and infections washed from city streets. Learn official reports from local government to know if swimming is allowed.
Never swim drunk and do not let your friends do this because swimming in condition of alcohol intoxication usually leads to drowning.




---

| | |
| --- | --- |
| Order 750 checklists in MS Word and PDF printable format at $49.99 USD only. | BUY NOW! |

CentriQS Tasks Management Solution

Looking for multi-user task management software? Try CentriQS complete task management solution for planning, tracking and reporting tasks, projects, and schedules. Increase productivity of your small business or office by better organizing your employees' tasks and time.

FREE Download CentriQS
CentriQS -15% OFF
All-in-one business management software
for small and midsize enterprises

---

VIP Task Manager
Multi-user project management software
to plan, schedule and track project tasks.

---

VIP Checklists
More than 750 ready-to-use to-do lists
to plan your personal and business life

---

VIP Team To Do List
Professional task management software
to make and send team todo lists by email

---

VIP Organizer
Personal time management software
to organize time at home and at work

---

VIP Simple To Do List
Simple and effective to-do list software
to plan daily chores, trips, wedding, etc.